Retiree Council 13 News
It Doesn't Add Up: Two math teachers criticize Tier 6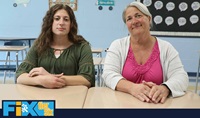 Anna Rossi and her daughter, Michelle Rossi have a lot in common.
They both teach math at Oneonta High School in classrooms right across the hall from one another. They often plan lessons together, and after school, they both coach sports. At the end of the day, they drive home to the same house.
But despite their identical careers, their retirement plans bear almost no resemblance to one another.
"It doesn't add up," said Michelle Rossi, a member of the Oneonta Teachers Association.
The New York State Teachers' Retirement System and the New York State and Local Employees' Retirement System, which represents most School-Related Professionals, have six retirement tiers. Tier membership is based on a teacher's hiring date. Educators hired between Sept. 1, 1983, and Dec. 31, 2009, are part of Tier 4. Members hired on or after April 1, 2012, are part of Tier 6.
Anna is in Tier 4. Michelle is in Tier 6 —or as she and her colleagues call it, "Tier Sucks."
That is because Tier 6 members who retire after the same length of service as Tier 4 members receive significantly reduced pensions. When Anna retires in a few years, she will earn more than 60 percent of her final average salary, whereas Michelle would only earn 26.4 percent of her salary for teaching the same length of time.