Vote-Cope
The need for VOTE-COPE, our Union's voluntary political action fund, does not diminish in retirement. Many political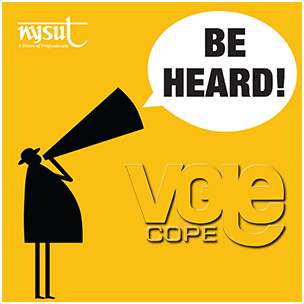 issues effect our retirees directly. Vote-Cope contributions ensure that our collective voices are heard on the local, state and federal level on the issues that are so vital to us. Issues such as:
Pension Protection and Earned Benefits
Defending and advocating for increased support for Social Security and Medicare for all retirees
Improving the COLA
Working to elect candidates, regardless of political affiliation, who are Pro-Public Education
Affordable, accessible and high-quality Health Care for allAmericans
A commitment to Justice, fighting Discrimination, Hatred and Bigotry of all sorts
A strong and vibrant democracy that embraces LABOR and supports the RIGHT to VOTE for all Americans including a free press and an independent judiciary.
To get more information on Vote-Cope click on the NYSUT VOTE-COPE link below.
To request a Pension Deduction or Direct Contribution Form for VOTE-COPE email Patrick McCarthy at rc13president@retireecouncil13.com