Retiree Council 13 News
NYSUT Social Justice Academy graduates first cohort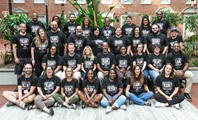 Scores of NYSUT members took part in the union's first ever Social Justice Academy in late July. The two-part program educates members about social justice issues and teaches them how to raise awareness and advocate for change in their communities. The goal is for participants to form either a local social justice or a civil and human rights committee and leave with a concrete plan to increase awareness and activism within their community.
"The locals participating this year were hand-picked, but we plan to have an application process to select 10 locals to continue the program next year," explained J. Philippe Abraham, NYSUT secretary-treasurer, whose office coordinates social justice initiatives. Piloting the program are the Brentwood Teachers Association, Syracuse TA, Tri Valley TA, Solvay TA and the United Federation of Teachers. "The locals' growth from March to now is incredible, they're on fire, really energized and engaged in the work."
Abraham noted that the pilot locals run the gamut from urban to rural and stretch across the state. "It's amazing to see them gel and learn about their different colleagues and communities."
The academy started in March with a weekend-long session to introduce the program and set goals and a budget. During the four-day July intensive iteration, members fine-tuned their plans, developed implementation strategies and learned about different aspects of social justice work, including community engagement, recruitment and team building, racial justice, and the intersection between poverty, LGBTQ and gender issues.